Kia Country Presents the All-New 2022 Kia EV6
It is a big year for Kia! Kia fans have been patiently waiting for the release of the all new 2022 Kia EV6, and it is finally time to start making your reservations to see this futuristic vehicle at Kia Country! We could not be more excited for this revolutionary vehicle to be at our dealership soon. The 2022 Kia EV6, for sale in Manteca, is a game charger in the electric vehicle market. This crossover truly has it all. It has a stylish exterior, futuristic design, luxurious interior that is full of advanced technology, and it has an extraordinary fuel economy. Kia has been the leader in electric vehicles for years. For example, the Kia Niro EV received the highest score in the mass market of battery electric vehicles from  J.D. Power 2021 U.S. Electric Vehicle Experience Ownership Study. Kia has also been awarded the Best-In-Class Warranty for having 10 years or 100,000 miles covered and the J.D. Power award for Number One Brand in their Vehicle Dependability Study. We at Kia Country are so excited to see what the 2022 Kia EV6, for sale in Manteca, brings to the table. We are also thrilled to be able to give a sneak peak of what to expect from the all new 2022 Kia EV6, at Kia Country. Let's jump right in and see what this crossover has to offer. 
Drumroll Please… The 2022 Kia EV6!
This all electric crossover is in a league of its own. There is truly nothing like it on the market. All models of the 2022 Kia EV6, at Kia Country, will come equipped with an all electric motor. Long gone are the days where having an electric vehicle meant you had to trade in power. This 2022 Kia EV6, for sale in Manteca, shows that you can have it all. Some trims will be capable of having 320 horsepower, with a 0 to 60 mph time in 4.6 seconds! Wow, not even the top sports cars can match that. A fantastic 446 pound feet of torque can be achieved on this powerful crossover. The 2022 Kia EV6, at Kia Country, will come with rear wheel drive as the standard option. There will also be a 5-link rear suspension that creates an excellent sporty handling. For our more adventurous drivers, an e-all wheel drive option will be available. The 2022 Kia EV6, for sale in Manteca, is the forest vehicle made from the new E-GMP Platform. This new style of architecture was exclusively designed for electric vehicles. The ultra-strength steel used when building the structure is stronger and weighs less than any other vehicle on the market. The E-GMP technology also provides better safety, handling, and interior volume than any other crossover. You will be able to drive farther than ever before on one charge with up to 300 mile range. So far, information has been released about the Gt-Line and the EV6 EX+ models of the 2022 Kia EV6, for sale in Manteca, and they are impressive! The 2022 Kia EV6, at Kia Country, also offers ultra-fast charging. This advanced technology will charge up to 210 miles in just 18 minutes. There are over 41,000 charging stations currently in the United States. It will be easy to find charging stations along your route. You can even install an 11kw on-board charger that will allow for a Level 2 240v recharge overnight from home. One huge perk of the 2022 Kia EV6, for sale in Manteca, is the available Onboard Power Generator ports. You will be able to use your 2022 Kia EV6, at Kia Country, to charge things such as phones, laptops, camping equipment, and more. Lastly, there is an available 2,300 pound towing capacity on the e-all wheel drive trims.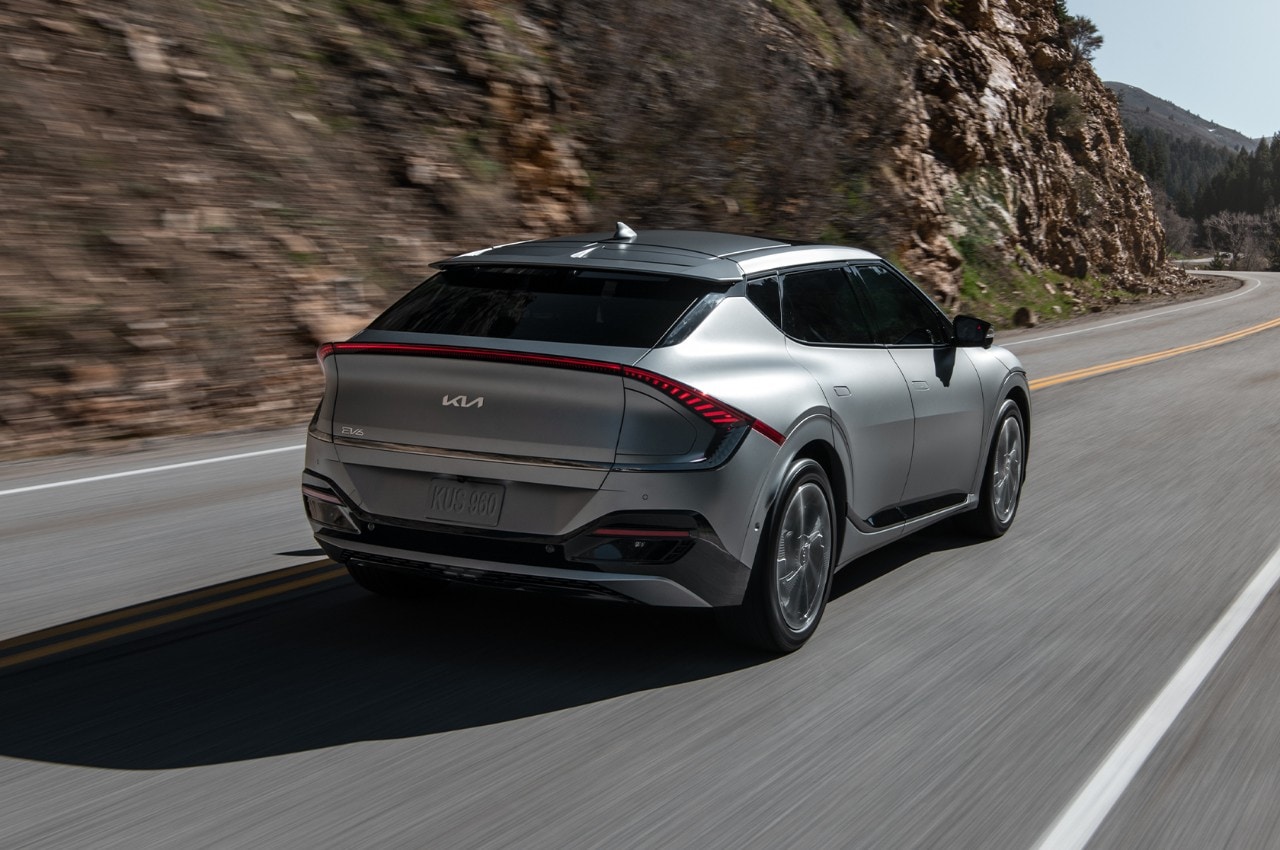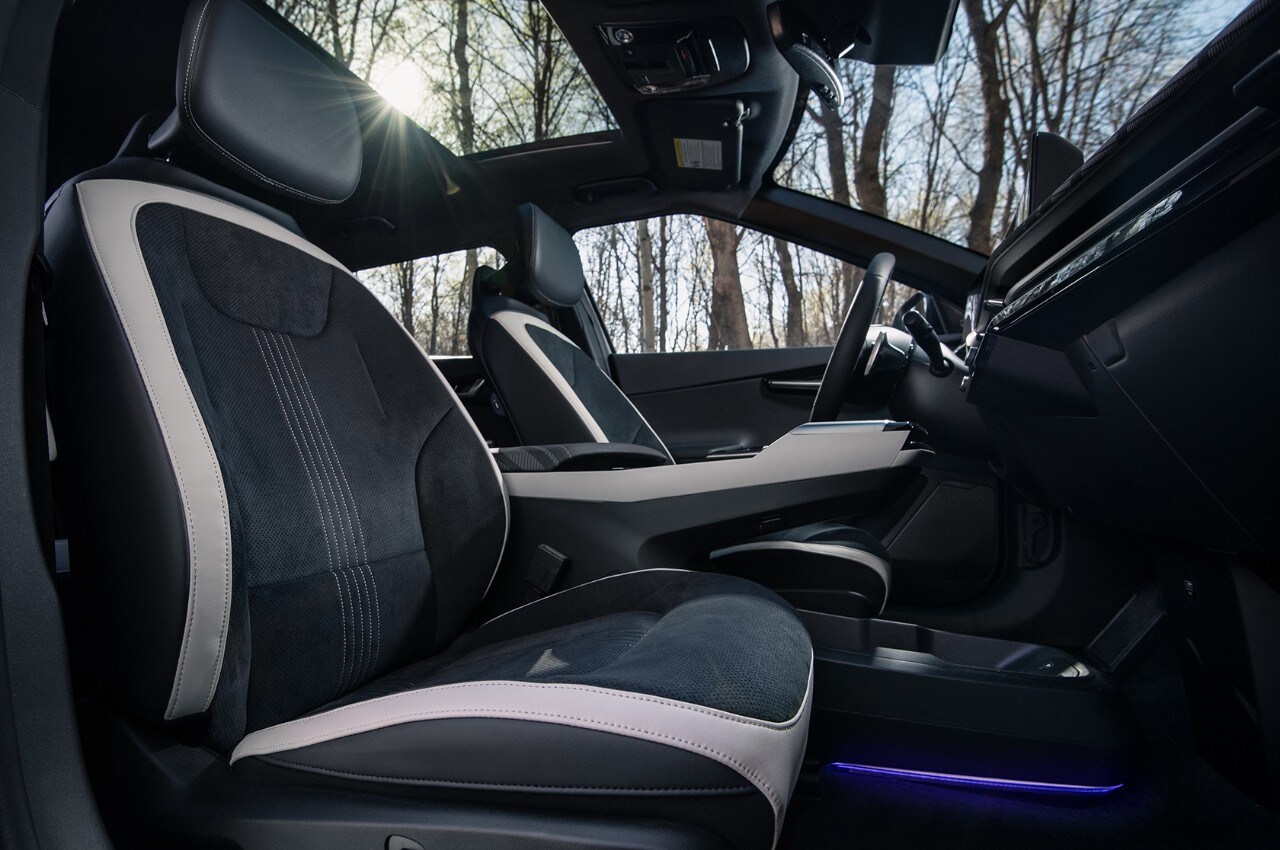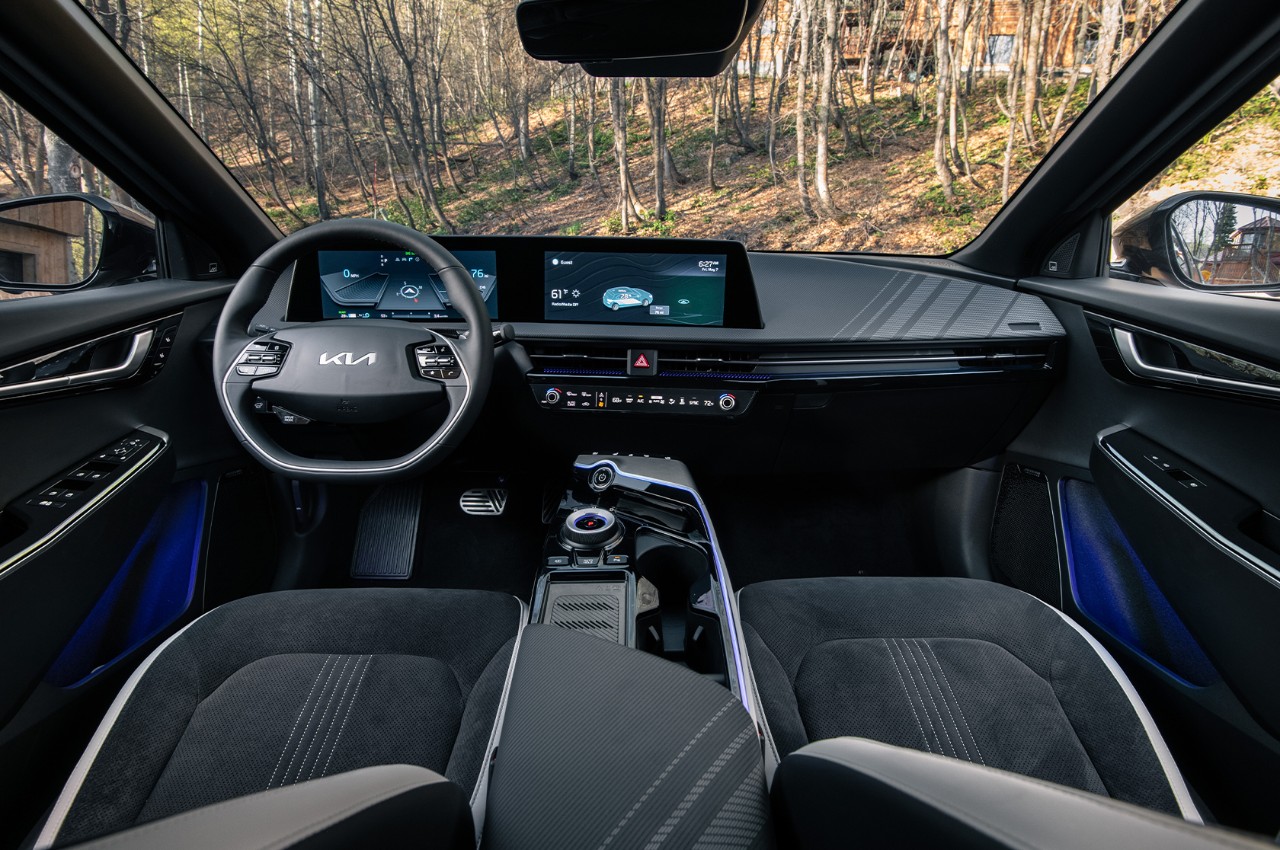 2022 Kia EV6 Features 
The evolutionary 2022 Kia EV6, at Kia Country, is full of extraordinary features. For years Apple CarPlay has allowed you to sync up your iphone with your vehicle. But, on the 2022 Kia EV6, for sale in Manteca, the technology takes you one step further and allows you to connect your Apple Watch to the EV6 through the Kia Connect app. You can control features like starting and stopping charging, opening and closing charge ports and even see your charging status all remotely.  The dual 12.3 inch curved screen created 24 inches of premium technology. This is the perfect display for navigation, car health, and even allows you to control your entertainment system. A blue light filter has been added to the screen to protect your eyes and create less driver fatigue. The innovative Augmented Reality Head-Up display projects your safety information and navigation right onto the windshield, allowing you to keep your eyes on the road where they should be. The exceptional Kia Drive Wise safety suite comes standard on each trim of the 2022 Kia EV6, at Kia Country. Features such as Blind-Spot View Monitor, Surround-View Monitor, and Highway Driver Assist will create a more relaxed driving experience, while keeping you safe. 
Kia Country
Want to be the first to experience this revolutionary vehicle? Contact Kia Country today to reserve your spot. The 2022 Kia EV6, for sale in Manteca, is truly unlike any other electric vehicle in the car industry. When you call to reserve your spot, we are happy to answer any questions you may have about the 2022 Kia EV6, at Kia Country. We can also tell you a little more about the EV6 EX+ and the EV6 GT-Line and see which model suits you best. We at Kia Country are here to guide you every step of the way. We have been helping the great people of Modesto, Tracy, Stockton, Manteca, and beyond for years and love to make our customers smile. Call today and make sure you are one of the first to experience the all new 2022 Kia EV6, at Kia Country!
MPG (mileage per gallon) based on current year EPA ratings. Actual MPG will vary based on driving habits, charging practice, battery age, weather, temperature and road/traffic conditions. Battery capacity will decrease with time and use. For more information on MPG and range, please visit: www.fueleconomy.gov/
Based on current year EPA mileage estimates, reflecting new EPA fuel economy methods beginning with 2008 models. Use for comparison purposes only. Do not compare to models before 2008. Your actual mileage will vary, depending on how you drive and maintain your vehicle.